Ok being the first guide, I will try to explain how the refinement thing goes in this game.

I though it was hard, but then after talking to few npcs now i know how to refine and if you're unlucky (like what happened to me 1 month ago) how to destroy your weapon.

First of all, you will need some
low cash.
When i mention a npc, i will post a pic so you dont get lost or something.
NOTE: All refinement's needs to be done 1 plus at a time.
+1, then +2 and so on, and so on. it's 1+ per step.
You have a weapon you'd love to refine? First you will need to buy some cute stuffs from the
general store merchant in hefei.
To get the weapon +1, you will need the black one below.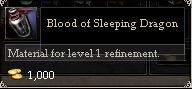 To get the weapon +2, you will need this white one.
Ok, now you have your weapon +2, and yet you want it to be +3 and shiny

, you will need a
Blood Essence
. Once you have one, you have to talk to this
Refinement Material Merchant in Hefei.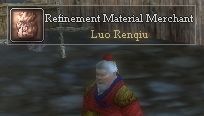 Now the real important thing is the "lucky" part.
Take note
it seems +1 and +2 are very high success rate, but +3 and on up become
harder
and more of your
luck
. There is a Gamble to all Refinements so if you wanna try it, do it your own risk.
If the refinement fails you will lose your weapon and materials.
Knowing this, and having the items you need, talk to this npc.
Master Refiner in Hefei.
A new window will open with a space for your Weapon, and then it will list the needed item (which i mentioned above).
If your weapon is clean (+0), then you will start with a level 1 refinement and work up, however if you have a +2 and want +3 all you will need is the
Blood of Mist Dragon
.
If for some reason you ever forget how many you need goto your living tab ingame and click on the Resorce Collection tab, in the left pain is a selection that shows the Blood Essence.
Name +Refinement Level (number of Blood Essence)
Blood of Sleeping Dragon +1 (bought off npc above)
Blood of Crouching Dragon +2 (bought off npc above)
Blood of Mist Dragon +3 (1)
+4 (2)
+5 (4)
+6 (7)
+7 (10)
+8 (15)
+9 (20)
Total Blood Essence needed for a +9 Refinement is 59.

I wish i had those